From the ashes
Smoking's curious comeback on the silver screen. Sydney Morning Herald, 18 March 2022

United Australia Party Billboards Targeted
UAP billboards came under attack in Sydney. 24 February 2022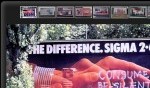 Gallery slideshows of billboards
New gallery where you can scroll through some of our greatest hits.
NOT A GROUP - A MOVEMENT
A lot of paint has sprayed from the can since the inception of BUGA-UP in October 1979. Since then the number of graffitists actively involved in BUGA-UP grew from three people working in the inner city of Sydney to people working across Australia, and across the world!
People from 8 to 71 years old were active in BUGA-UP. These included entire families - carpenters, domestic and health workers, graphic artists, hairdressers, taxi-drivers, a wrestler, journalists, students, pensioners, research and metal workers, kindergarten teachers, technicians, public servants, unionists and clergy - to name but a few!
Originally the BUGA-UP campaign was broadly aimed at all unhealthy billboard advertisements. However, in response to public opinion we soon focussed our attention on tobacco & alcohol promotions and other promotions that were socially and visually assaulting.
This was one of the earliest examples of Culture Jamming in the world, and certainly in Australia.
This site is dedicated to the activistes who have not only risked arrest, but injury through fence-jumping, scaffold-climbing, dog-chasing and the dreaded spray-back on those cold windy nights.
FURTHER READING and ONLINE ARTICLES
For more about the history and development of BUGA-UP read BUGA-UP BEGINNINGS and BUGA-UP PROGRESS. A later article by Frances van Zinnen, BUGA UP – You've come a long way baby was published in Overland magazine in August 2012.
The Billbored Newsletters - 1982-1985 in the Publications section provide a chronological documentation of many BUGA-UP activities, and provide a good historical record of the movement.
---