March 2009
Fred Cole: Poster boy for radical protest
By Arthur Chesterfield-Evans - reproduced courtesy of the Sydney Morning Herald: 16 March 2009
Fred Cole, 1926-2009
THE painters of BUGA-UP (Billboard Utilising Graffitists Against Unhealthy Promotions), who emerged in 1978, amused some people, annoyed some, and inspired many. They were a diverse group, from rebellious youth with time on their hands, to thoracic surgeons. In the end, they won a historic victory against tobacco advertising. Fred cole (he insisted on small letters) went to war in the Middle East towards the end of World War II and claimed to have entered Germany driving a tank. But he will be remembered most for his successful campaign with BUGA-UP .
Cole, who has died at 82, was born in Hornsey, Middlesex, to Percy Cole and his wife, formerly Lilian White. He was educated privately, which might have contributed to his imperious English manner. After his army service, he became a librarian.
He was very interested in the arts and classical music, through which he met his English wife, Joyce Smith. Cole decided that he and Joyce should emigrate with their two children. They settled on the rural outskirts of Sydney where he wanted to live a self-sufficient life off the land. When this proved impractical, he had a variety of jobs, including a small business that went bankrupt after a few years. He moved to the inner city, worked for the post office and ran a stall at Paddy's Markets.
His ideas and beliefs were outside the norm for his time. These included an evolving diet, vegetarian to vegan to fruitarian; non-smoking, non-drinking (including fluoridated water); atheism, and a deep suspicion of conventional medicine.
He said his radicalisation began when a policeman hit him on the head in an anti-Vietnam War demonstration but he was fairly radical before this. His political views, personality clashes and the failure of his business ended his marriage and brought alienation from some friends and family.
Fighting for many causes, including peace, the environment and the anti-smoking group, Puff Off, he was a fixture at rallies and fairs. He had three radio programmes on the community station, 2SER-FM. Using existing tobacco billboards, BUGA-UP changed the advertisers' images of smokers and smoking. A chessboard to emphasise smoking's sophistication gained the slogan, "Get a Lung Check Mate". Cole was strongly influenced by Gandhi and BUGA-UP 's civil disobedience was the perfect platform for him.
In the 1980s, with hippy-style unkempt hair, beard and duffle coat, he strolled along in bare feet and shoulder bags containing bread, tabouleh, leaflets and spray cans. He often sprayed each tobacco billboard he passed - writing "Smokers Stink" on hoardings - even in broad daylight. Easily identifiable and slow moving, he was arrested more often than other BUGA-UP members.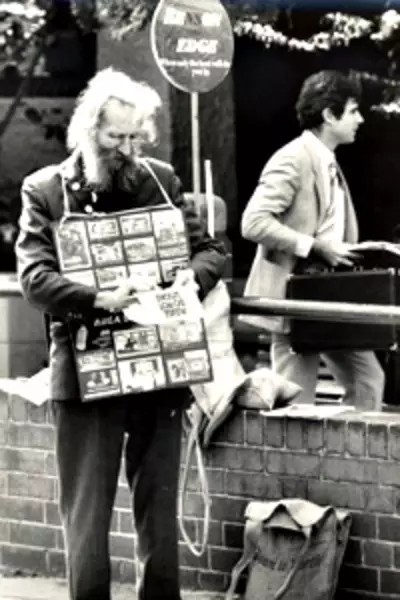 Cole was passionate about humanity in the abstract but did not always show the same humanity to those who tried to help him. He was clever but, even within BUGA-UP , controversial. The tobacco industry used him to show that anti-smokers were "ratbags and crazies". As an after-dinner speaker at a Young Liberals convention in 1981, he tried to get everyone to eat his organic bread in a kind of Last Supper ritual. The premier, Nick Greiner, who later became chairman of British-American Tobacco, was not amused.
When Rothmans ran a national press photo exhibition at Centrepoint, police carried him away when he tried to interview a hostess for his Puff Off program. Cole beat the charge. Police tended to arrest him - and other graffitists - less frequently as public sympathy rose for BUGA-UP and fell for tobacco advertisers. By 1983, billboards had been given graffiti-proof coatings and few were accessible from footpath level, although cole sometimes used a cherrypicker to lift him, even when he was in a wheelchair.
He lost his house when he did not pay the mortgage and tended to drift from one helpful friend to another. Some regarded him as a guru, though he sometimes outlived his welcome.
His health suffered from his dietary theories and he fasted a lot because Gandhi had fasted. His family felt he had significant dementia at the end, though he could play chess and engage in mathematics and word play. Cole died in a nursing home at Caloundra. His wife predeceased him and he is survived by his son, Andrew, and daughter, Marion. The big cause for which he worked, the end of tobacco advertising, was achieved in his lifetime.
Links
---
Updated March 2009